Hello,
We have now arrived in Ao Nang which is a small town surrounded by crazy Lime stone cliffs and huge beaches, to get anywhere nearby its easier and cheaper to get a taxi boat than a taxi car, but that also means you're probably gonna get wet, and while you're carrying a laptop and other electrical equipment, this can be quite hairy, but you just have to deal with it! We actually decided to leave Ao Nang yesterday to go to a beach called Railey Beach which we heard was really nice, So we packed up our stuff and booked out of the hostel and got one of the long tail boats to this beach, When we arrived there it was a very nice beach, but every place to stay was WAY WAY out of our budget, on the other side of the island Charlie found some accommodation that was nearer our price range, but the beach there was nasty and full of mangroves which made it impossible to swim in, So we had a choice of paying over the odds for a crappy place and having to walk about 20min everyday to the (nice) beach or cut our losses and head back to Ao Nang and get cheap and nice accommodation which is right next to a huge beach....... Not that hard to decide really!
We are leaving Ao Nang tomorrow to head to Krabi Town, We need to sort out an extension on our visas because there is not much point heading further out into the islands if we need to renew our visas by leaving and re-entering Thailand, We think its possible to extend our 30 day visa to 90 days but we may just have to do a "visa-run" to the border crossing with Burma and then come back across, which is annoying and a waste of time but would be worth it in the end.
Here are a few photos from our last few days in Phi Phi:
This is Ko Phi Phi, This is actually 2 photos put together, see if you can spot the blend (Photoshop is hard.)
This is myself and charlie having a few beers @ Carpe Diem on our last night, Its a really cool bar on the beach.
Just in case people don't know this is "Poi", Its basically throwing two balls around on the end of chains, Some of the better people set fire to the balls.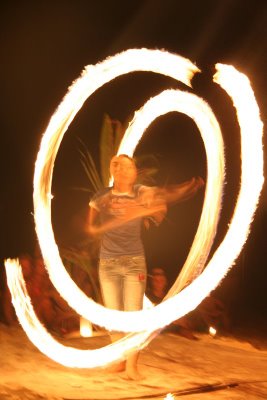 The competition was pretty cool to watch although some were just miles ahead of others
This girl was just simply the best Ive ever seen, Super fast, but with serious style as well.
We went out for a day tour around a few different islands, These Cliffs are just soo cool to look at when you cruising by.
This is pirate cave, It was pretty cool looking, but also kinda creepy.
I think this was my favorite part of the day, To get to Maya Beach (From the film the beach) you have to snorkel to this tiny little gap in the rocks (as seen at the bottom of the giant V in this picture) and climb through and then walk through the jungle on the other side and then you walk out onto the actual beach...... Its a pretty amazing beach, but was totally ruined by it being covered with about 500 people and the whole bay was packed with speedboats backing onto the beach letting more tourists onto the beach, I wasn't really expecting for it just to be the two of us walking out onto the beach, but it was really packed and was a bit of a let down.
We headed out to a tiny little island called Bamboo Island, This was much more like it! we got to go snorkeling, It was the coolest thing ever. Ive never seen water as clear as this, the fish were just crazy, It was like being in Finding Nemo, We got to see Clown fish, Angel Fish, Sting rays, Black tipped Sharks, Parrot fish. Ive been totally converted to diving, I went out the next day and bought a decent Mask/snorkel...... although I don't know how ill manage back home in the cold waters!!
This is Charlie looking stunning while basking in the sunshine @ Bamboo Island.
Hope everyone is well back home, We are missing everyone loads and we send our love to everyone.
Sean and Charlie.